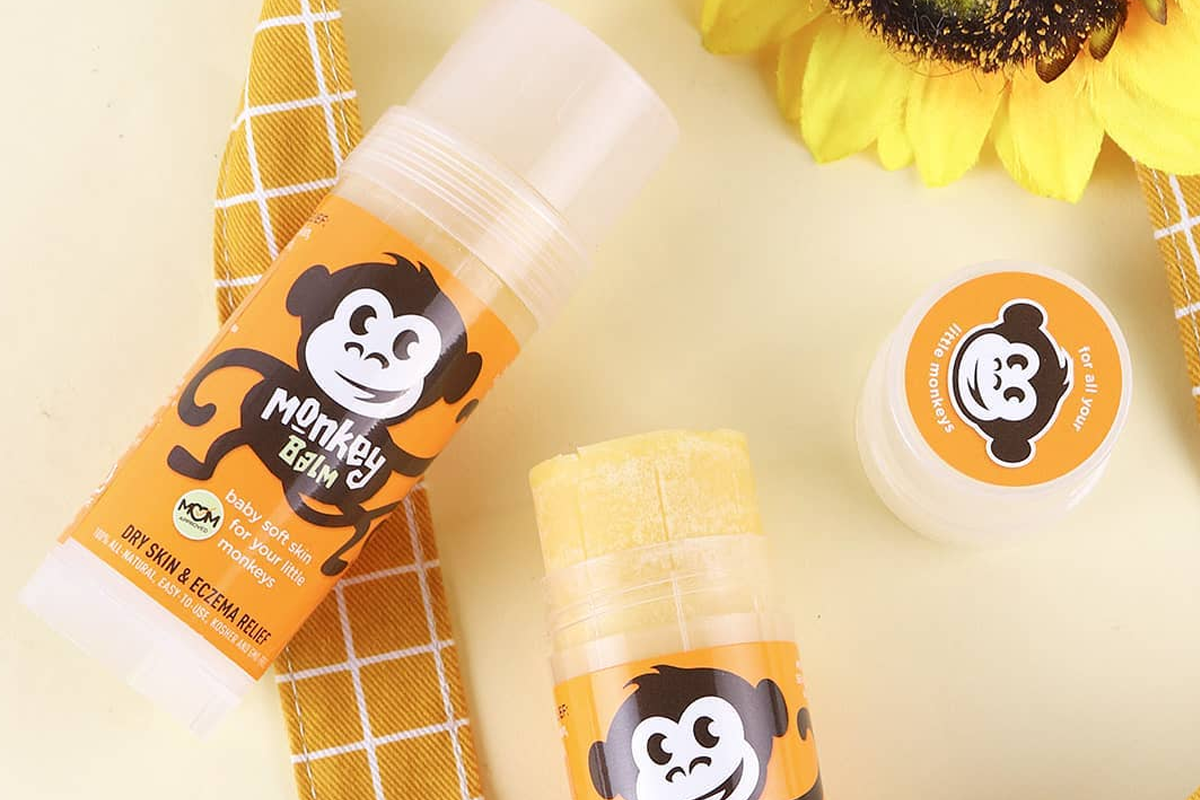 What is Monkey Balm and How Does it Work?
Monkey Balm is a mom-approved dry skin and eczema relief balm made with all natural, organic ingredients, that comes in an easy-to-apply glide-on stick. Whether you're at home or on-the-go, a dependable dry skin relief and eczema product is essential for keeping your little monkey's skin soft, smooth, and healthy. Monkey Balm is the home skin remedy that's a must-have for your diaper bag!
Its no-sting, no-mess tube stick design makes dry skin relief cleaner and easier, and helps you avoid future "lotion accidents." Monkey Balm is always made with the highest-quality natural, organic ingredients. It features organic sea buckthorn oils and other soothing natural emollients in a coconut oil base. It's never been easier to achieve and maintain baby soft skin for your little monkeys!
In addition, Monkey Balm is:
100% Natural
Cruelty free
Vegan
Kosher
GMO free
Easy to use
Made without gluten, parabens, sulfates, or artificial preservatives
Phthalate, petrochemical, and paraben free
Monkey Balm is safe and effective for everyone — babies, toddlers, children, and adults!
Why Does Monkey Balm Work So Well?
The Monkey Balm skin remedy formula harnesses the potent sea buckthorn berry. Sea buckthorn has been used as a natural moisturizer for its intense hydrating properties to sooth skin ailments for thousands of years. And, unlike many topical over-the-counter creams, the sea buckthorn heals your skin from the outside and from within.

Sea buckthorn is also the most abundant vegetarian source of the rare fatty acid Omega 7 on the planet. The phytonutrients and the rare Omega 7 aids in activating your body's natural protective properties, since Omega 7 is a potent catalyst in fostering healthy skin. Its unique composition of fatty acids and vitamins is what makes Monkey Balm great for calluses, eczema, and dry skin alike. On top of its healing and moisturizing benefits, the fruit and seeds of the sea buckthorn are also powerful antioxidants. They have a plethora of skin health benefits associated with them, as well as anti-inflammatory properties.
Suggested Uses of Monkey Balm
Apply Monkey Balm directly to problem areas 2-3 times per day, or anytime relief of irritation is desired. Continue to use daily to maintain healthy, conditioned skin. For advanced usage on conditions like cradle cap and more, please see our Usage Guides article category.
Quick, Clean, Easy Application
Monkey Balm's twist up tube applicator makes application incredibly easy, which means no mess or greasy hands. Its unique applicator alone gives it a huge leg up on its lotion and moisturizer alternatives. It saves valuable space, and the tube sticks are small enough that you can very easily stash it in a side pocket.
We've tried the over-the-counter skin creams and lip salves. We continued trying them, filling our cabinets with more and more half empty products that just left us feeling gooey, greasy, and… itchy. It seemed like nothing worked. Not only that, but reading the ingredient labels on these commercial packages makes you cringe at just what you are putting on your skin. What is chlorphenesin or ceteareth-20? Who would rub cetearyl alcohol on dry, cracked skin? Ouch. It's no wonder these products sting and leave you just as itchy… or worse. No thanks! Swing for some Monkey Balm. We know you'll love it.